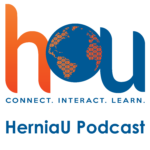 Learn about our hernia experts

Apr 20, 2017 • 14:21

Dr. Flavio Malcher talks about his journey to becoming a doctor and the choices he has made to move to the United States. You can interact with Dr. Malcher as he moderates our next live surgical broadcast at HerniaU.com.

A True Global Surgery Practice

May 24, 2018 • 14:09

Dr. Tim Tollens talks about how his educational activities in the Middle East have turned into a regular operating schedule in the region.

Thinking Outside of The Box-from Surgery to Empanadas

Sep 4, 2018 • 11:54

Dr. Eduardo Parra Davila speaks on his endeavors outside of Hernia and the importance of working with the people you care about.

Living a Legacy

Aug 5, 2018 • 13:50

Dr. Salvador Morales talks about following in his father's career footsteps and passion for education.

The Importance of Music in Medicine

Feb 25, 2019 • 13:17

Professor Johannes Jeekel speaks on his passion for both music and medicine and what brought him to combine the two for improved outcomes.

Hernia Education in Social Media

Apr 8, 2019 • 15:18

Dr. Brian Jacob speaks on the evolution of the International Hernia Collaboration and the importance of collaboration in the global hernia community.

Creating Your Own Path

Aug 28, 2019 • 14:29

Prof.Tang speaks on his unique journey to becoming a surgeon

Creating a Community

Oct 23, 2019 • 15:54

Professor Chowbey speaks to us on the origination of Asia Pacific Hernia Society (APHS) and his advice on starting a society.

Bringing surgeons together: Starting a society organization

Sep 28, 2023 • 12:49

Sonia Ribas joins Flavio Malcher to discuss her experience launching the Portguese Hernia Society, and the challenge of building the next generation of leaders in hernia organizations.

Managing hernia surgery in a resource constrained environment

Sep 28, 2023 • 13:03

Heather Bougard joins Salvador Morales to discuss how to manage hernia surgery in a resource constrained environment, including her view on the role of HerniaU in educating surgeons around the world.